Creative Spark in the Park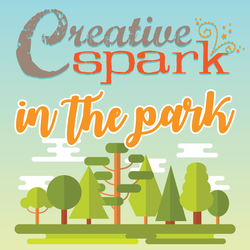 A brand new show!
We're taking the success of the
Winter Market outdoors!

Saturday, June 17, 2017
Where: Royal City Park, just south of Downtown GuelphTime: 10am-5pm

Creative Spark in the Park Handcrafted Show and SaleThis is a handcrafted only, juried show
The show is heavily advertised with full-colour posters strategically located throughout the city, full-colour postcards distributed through vendors, the Guelph Creative Arts Council, public library outlets, supporting restaurants and retail stores. Includes radio and online promotions such as newsfeed Facebook and Kijiji ads as well as community listings on several sites. Press releases will also be sent out to all local news outlets.
Apply today!
Applications will remain open until Monday, May 1st. All applicants will be notified of acceptance by Wednesday, May 3rd. Payment will then be required within two weeks of acceptance. Details for payment will be emailed to you.

Application approval processApplications will be checked daily with first come, first served during our approval process. As this is a juried show with a focus on variety for our patrons, we have limited spaces for each discipline (typically no more than 5 spaces for each discipline i.e. jewellery, pottery, etc) based on the size of this show (up to 50 vendors permitted currently). This has served us well and our patron surveys reveal this is the number reason they enjoy the show: quality and variety.
---
The Venue
Royal City Park, 139 Gordon St. Guelph, Ont.
A beautiful public park situated on the river across the street from the BoatHouse tea room and ice cream parlour and backs onto the lovely scenic street where Lieutenant Colonel John McCrae, famous for his In Flanders Fields poem, lived. A highly visible park along Gordon Street and just a block away from Downtown Guelph. Port-a-potties have been ordered to accommodate both vendors and patrons for a most enjoyable day!

Applications now OPEN
Artist information - Please read carefully


EarlyBird special:
10'x10' spaces are $125. After Saturday April 1st, spaces are $150 so book early and save $$!
Deadline for applications
**
:
Early Bird special is open until Saturday, April 1st. Don't delay, Apply today! Final deadline for registration is Monday, May 1st.
Booth size:
10'x10' booth space. It is advisable that you use a tent. Must be free standing. You are also responsible for your own table. Tent and table rentals are being looked into through Royal Rentals. TBA.
Booth requirements:
Please display a sign to represent your company/name/product. Free-standing booths are what is required by the city. All spaces will be marked as city determines where tents may be put up and tent pegs may be used. Check out
www.vistaprint.com
for marketing materials such as signage, business cards, postcards to hand out, etc. This is a great way to advertise yourself at the show!
Set up and take down:
The venue will open to vendors (and their helpers) at 7:00am, Saturday June 17th. Booths must be set up by 9:30am, a half hour prior to show start. Show starts at 10am for patrons but as this is an open space and popular for dog walkers, please note that you may be interrupted during set up despite signage asking people to be respective of opening time of 10am. Take down will start promptly after the show at 5pm. Please make provisions to have your booth removed completely from the premises by 6pm.
Application notes:
Please supply 3-5 photos of your items, a photo of your booth (or sketch), a description of your
handmade
items and what materials you use as well as contact information. It's easy! Just fill out the application form below. As this is a juried show, your application will be reviewed by a panel of judges for entry to the show. We're looking for unique creations and quality product. Is this you? Then please apply!
Vendor payment: Once notice of acceptance is emailed to you, more details for payment will be sent to you. Show posters and postcards will be available for you to hand out at shows you are involved in and digitals file (pdf and jpg files) will be available for you to post to all your social media platforms or send via email to your contacts.
Cheques or e-transfers are payable to Carolyn McLeod (show organizer) and are due by Friday May 12th to reserve your spot. If payment not received by this deadline, your space may be given to a vendor on our waiting list.
We accept bank transfers via email as well. A receipt will be provided. Please do not send cash in the mail.
E-transfers can be sent to studio@creativesparkworkshops.com. Cheques can be mailed to:
Creative Spark Workshopsc/o Carolyn McLeod100 Crimea St., Unit C8, Guelph Ont. N1H 2Y6Show postcards:
Each accepted vendor will receive 50 postcards to hand out to fans, family and friends to help promote the show and your spot in it! Please let us know if you require more cards for other shows you are participating in to hand out.
Cancellations
Cancellations 2-4 weeks (inclusive) will be subject to a cancellation fee of $50.
We cannot accept any cancellations 2 weeks or less prior to the show
and therefore cannot provide any refunds.
**Please note: priority space given in order of applications received.
---