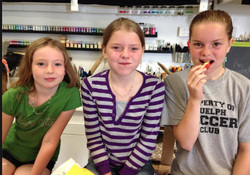 With the rise in digital gadgets keeping kids occupied, it's no wonder we're seeing fewer kids in programs that promote creativity by making items with tools that aren't powered by electrical cords or batteries. At the Creative Spark Workshops studio, we're hoping to change that by giving kids the tools and the confidence to try new things, be creative and have fun, all at the same time. This week, the studio is hosting girls in our 'Girlie Girl' camp where were teaching several methods of jewellery making and accessory creation. It's amazing how quiet a group of girls can get once they get into creating their wearable masterpieces! It was great to see them concentrating on their new-found skills. I could see their confidence growing as they worked away at tackling the wire and beads until they finished their necklaces and earrings. So they learned to use some new tools, shared some great laughs and walked out wearing their wonderful art. We'll see what the rest of the week brings as we continue learning new skills and techniques!
Adults can learn new hobbies and skills too, even when they think they don't want to...
My favourite story about trying new things and learning new skills is a wonderful women I met while employed with
Grand Magazine
(Waterloo Region, lifestyle magazine). Her name is Yvonne Zensner. Does it found familiar? She is the owner and amazing cake decorator of
Cake Box
in Kitchener. She says she was basically dragged to a cake decorating course by a friend (or sister? It's been a while since I sat at a dinner with Yvonne and heard the story), but basically, she was not interested in going to this workshop. To her amazement, she fell in love with it and has been making history with her incredible cakes ever since. So, why not give a workshop a try? Bring a friend. If you don't like it, at least you tried. You'll never know if you don't give it a shot. You never know, your next career could be just a workshop away... !