One week left! August 14-18
Summer fun! Again this year, take note parents... you will need shelf and wall space to display the awesome creations your kids will be making at camp this summer! Camp is open to both boys and girls, ages 8-14.
Week 4 - August 14-18 - Prints & prints!
Print making and Photography -
We'll start with drawing our concepts, learn to drypoint, create mono-prints, make an edition (yeah, your own limited edition signed prints!)… and so much more. We'll be exploring different tools, found objects and a variety of media to produce an assortment of prints.
Also this week, w
e'll learn how to see through the lens using a DSLR camera (Canon and Nikon) - but also exploring how you can use your smart phone in a creative way as well to produce framable pieces and wall art. Some digital manipulation using Adobe Photoshop basics will give campers a taste of what the pros use! Images will be printed on various papers and we will explore colouring and added media techniques to create truly unique pieces of art. The focus of the photography will be the urban landscape*.
You're going to need some wall space to display all of the great art we're creating this week!
Instructor: Carolyn McLeod
*please note, we will be walking downtown Guelph on a good weather day to explore the architecture and natural landscape of Goldie Mill park to take our photos. We will need an additional release signed for this field trip adventure!
Register today!
---
Camp details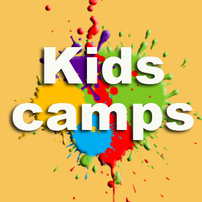 Monday to Friday: 9:00am - 4:30pm
Drop off and pick up:
Drop off time starts at 8:30am, classes start at 9:00am to give parents time to drop off child before work. Pick up is 5:00pm, but accommodations can be made for pick up as late as 5:30pm.
Location:
The classes will be held at
100 Crimea St., Unit C8, Guelph
(in behind the food bank building), in our spacious 600 square foot studio. We have a small kitchen space, washroom facilities and are fully insured.
Class size:
Class sizes will be limited to 10 children. Class sizes are much smaller than many camp offerings out there, ensuring your child(ren) will receive the needed one-on-one instruction and help for best results during the course of the camp.
Lunch & snacks:
Children are required to bring a bagged/boxed lunch (peanut free, please). Snacks (morning and afternoon), juice and bottled water will be provided (peanut free and Gluten free also available as instructor is Celiac and understands the dietary needs for those on special diets). As there is a park at the end of the street, we will be heading there every lunch hour for a picnic lunch in the park. Ukuleles have been known to be played during this time, so if you have one, bring it along!
Costs
Weekly full day camps are $235
per child for full week camps with exception of Creative Theater: Drama! camp with 4-day option of $190 due to the civic holiday Monday (all supplies and snacks included). A non-refundable deposit of $50 is due upon booking. Remainder is due the first day of camp. You can also opt to pay via email transfer. Personal cheques also accepted with valid driver's licence. All supplies included. A waiting list will be created for popular camps.
Sibling discount:
A 10% discount will be given to siblings attending the camps, even if they're not attending the same week! Please make note when signing up.
Sign ups and contact info
You can sign up on our
registration
page. Please pass on any inquiries to Carolyn McLeod-McCarthy at
studio@creativesparkworkshops.com
or by calling 519-830-7735. The Contact form is sometimes finicky, so if you don't hear from us within 24 hours, please give us a call!
Still have questions or would like to inquire about the camps? Please call Carolyn at 519-830-7735.
---
Check out our photo gallery of our camps from last summer 2016!
Learn new skills, make new friends and have lots of fun!